Wigs Knowledge
Everything About Wig Density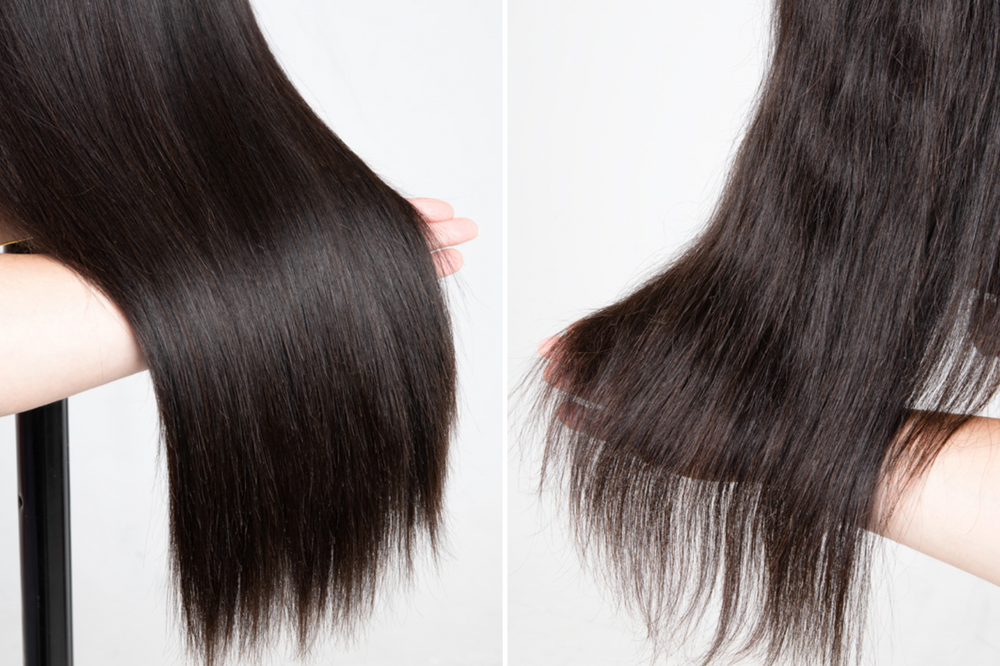 Choosing a wig can be quite a challenge, considering all the different factors you must consider. One of these is hair density.
If you're new to wigs, you might wonder what wig density is, why it matters, and what wig density best suits you. Worry not, for in this article, I will share everything you need to know about wig density.
Wig density refers to how dense a wig is, or how much hair was used to create the wig. Hair density influences how realistic the wig looks when worn.
Most human hair wigs are made with Asian hair, and they tend to look thicker than African hair. Do note that some hair vendors will mix shorter hairs in to lower the cost because they are usually cheaper, so it is a good idea to measure the wig density from the end of your wig.
You may have noticed that wig sellers usually indicate the wig's hair density in the product description. But did you know that the kind of hair used in making the wig also plays a factor in making the wig look thicker?
Wig manufacturers use different kinds of hair when making their wigs. Some use African hair, while others use Asian hair. Although both types of hair are of good quality, Asian hair tends to look thicker than African hair.
This is supported by a study published in the National Library of Medicine, where it was found that Asian hair strands are rounder, straighter, and more cylindrical in shape, unlike African hair, which looks more flattened and curled.
So, for naturally thick-looking wigs, opt for those made of Asian hair. In fact, most wig manufacturers nowadays use Asian hair, as it has the most abundant supply.
Although the kind of hair may influence how the wig looks, it's still important to consider how much hair was used in making the wig. Denser hair means more volume, which gives you more opportunities to style your wig.
However, wigs with thicker hair density may demand a higher price since they require more manpower and hair to create them.
To help you know more about hair density, we've provided a wig density chart below.
| | | | |
| --- | --- | --- | --- |
| WIG DENSITY | DESCRIPTION | IDEAL HAIR LENGTH | BEST FOR |
| 80 - 90 percent | Extra light density | Less than 12 inches | This is the lightest hair density, suitable for people who have naturally thin and fine hair. |
| 100 - 110 percent | Light density | Less than 12 inches | This is best for people who want a lightweight and short-length wig. People with thin hair can also opt for light-density wigs to replicate their natural hair. |
| 120 - 130 percent | Natural/Medium density | 12 - 14 inches | This is the average hair density. The amount of hair used is based on the number of hairs found on the average head. This is a good choice if you want your hair to look natural despite the wig. |
| 150 percent | Medium/Heavy density | 16 - 20 inches | More bouncy and voluminous than medium hair density. This is preferred by women who want more styling options. |
| 180 percent | Heavy density | 20 - 24 inches | This is even more voluminous and is mostly used by performers, models, and hair stylists. |
| 200 percent | Extra heavy density | 26 - 30 inches | Extra heavy wig density is usually used by professional hair stylists, artists, and stage performers for its especially thick look. |
What is the Best Density of a Wig?
The best wig density is completely up to your preferences. However, if you're a newbie, experts recommend choosing wigs with higher hair density. Why? This is because denser hair wigs have better overall quality than thinner ones, and you have more opportunities to style them. Who wouldn't want to have long, thick, and gorgeous-looking hair?
That said, here are factors you have to consider first when deciding on the right wig density.
The denser the wig is, the more expensive it'll cost. That's why being knowledgeable about different wig densities will help you establish a balance between your budget and preferred hair wig density.
The best hair density also depends on the hair length. Shorter hair length requires lighter hair density to look more natural. 100 to 120 percent hair density is the most ideal choice for short hair.
On the other hand, high-density hair is best for long-length hair. Hair stylists recommend choosing 150 to 180 percent hair density for a long-length hair wig.
If you want to make your wig look as natural as possible, opt for a wig density that is similar to or close to your natural hair. You can learn how to measure your natural hair density later on in this article.
Remember that high-density wigs require more care and maintenance than low-density wigs. The latter requires gentler wig hair care products since the hair is thinner and more sensitive to shedding.
Do you want a wig that can accommodate many hairstyles? Or do you prefer wigs suitable for everyday use? These are just a few questions you should ask yourself before deciding on the perfect wig density.
High-density wigs are best for women who love styling their hair in many ways. On the other hand, low-density hair wigs are suitable for minimal and simple hairstyles.
How to Measure Wig Density
There is no universal measurement when it comes to wig density since hair wig manufacturers usually have their own criteria to measure.
But here's how to measure your hair's current density:
First, to comb and smoothen your hair.
Next, tie it into a ponytail.
Use a measuring tape and wrap it around the ponytail.
Once done, take note of the area where the tape's end meets and pull it out from your ponytail.
If it measures less than three inches, you fall into the light hair density category.
If it measures more than three inches, you belong to the medium to high hair density.
After measuring your hair density, it's now up to you to decide whether you will buy a wig with the same density as your natural hair, or more or less than it. Refer to the hair density chart above to help you decide what hair density suits you best.
Some wig companies sell wigs that are not true to their stated density. They do this by adding shorter hairs between longer hairs to make them look dense at the top but thin at the ends.
To avoid getting low-quality wigs, thoroughly inspect the wig if its thickness at the roots is the same as the ends. You can also use a tape measure to inspect if the density of the wig is true to what the seller claims it is. If you're buying online, check product reviews. Thesenserve as a good reference to the wig's quality.
Does density differ based on cap construction?
Each wig falls into a specific hair density category. However, the wig cap's capacity to hold a certain amount of hair also differs. Monofilament, full lace, and lace front wigs usually have 120 to 150 percent hair density, while wefted or basic wig caps can hold up to 180 to 200 percent hair density.
Which hair density is the most comfortable?
When it comes to comfort, extra light to light hair density is the most plausible choice. Since it has less density, it's more lightweight and breathable than medium to extra-heavy hair density. However, it lacks volume and has limited styling options.
Is it possible for a customized wig?
Yes, most wig companies nowadays accept wig customization. You just have to provide your wig size, preferred hair type, wig cap, and hair density to the seller. Expect to pay an extra service fee, though.
Choosing the right wig density is a personal choice. You need to consider different factors such as your budget, preferred hair length, natural hair density, hair care, and hairstyles before deciding.
I hope this article helped you learn everything you need to know about wig density. Have any questions or thoughts? Jot them down in the comments section below.