Wigs Knowledge
How Long Can You Wear A Lace Front Wig
Generally, you can wear a lace front wig for two to six weeks. But making it last requires proper handling and care. To learn some helpful tips about wearing a lace front wig, read on.
As a writer and wig wearer myself, I've done an extensive research to answer the question of how long you can wear a lace front wig. Today, I will share all that I've learned and more.But before that, let's first talk about what a lace front wig is.
What is a Lace Front Wig?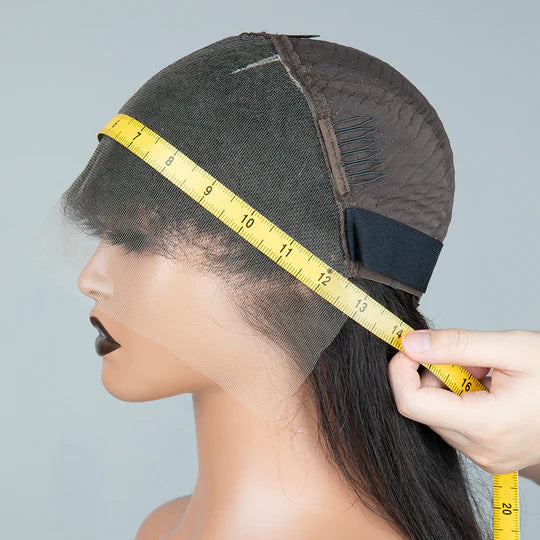 Lace front wigs are undoubtedly one of the finest breakthroughs in hair accessories.
This particular style of wig features a flesh-colored lace mesh front that can easily blend with your skin to resemble your scalp. You won't appear to be wearing a wig at all, giving you a more natural look overall.
Now that you know what a lace front wig is, it is time to talk about how long you can wear a lace front wig.
How Long Can You Wear a Lace Front Wig?
As mentioned above, a lace front wig can be worn for two to six weeks. However, its longevity and staying power may depend on various factors. This includes how it is worn, the adhesive type used, how well you maintain it, and the development of your natural hair.
External factors like the weather and elements like smoke and heat exposure can also affect its quality in the long run.
That said, here are some suggestions on how to help a lace front wig last longer.
Wash, shampoo, and condition the wig every other week to prevent matting and keep the hair clean
Always air dry your wig to prevent heat damage on the strands
Brush your wig regularly to prevent knots and tangles
Note: Avoid wearing a lace front wig for longer than 6 weeks. Give your natural hair a few weeks to breathe before putting on a new wig. Prolonged use of your lace front wig can result in color fading, thread tearing, and the deterioration of its quality and appearance.
Taking care and maintaining lace front wigs can be challenging, especially for beginners. To make things easier, here are some essential tips.
Use different wigs from time to time
In other words, you shouldn't wear the same wig every day. Wearing the same one for weeks will cause it to wear down faster. Consider purchasing multiple wigs and rotate their usage if you wear wigs regularly. Also, don't forget to regularly maintain the wigs you're not using.
Use products made for wigs
One of the most important aspects of wig durability is using products specifically designed for your wig. Traditional conditioners, shampoos, and other treatments can contain harsh chemicals that can harm your wig. To avoid this, we recommend using wig-specific products to ensure longevity and prevent product buildup and greasiness.
Don't wash your wig too often
Too much washing can cause your wig to become brittle, dry out, and lose its shine. You must wash your wig every two to three weeks, or after about six to eight wears. Your lifestyle also affects how frequently you should wash your wig, so create a schedule that works for you.
Choose an adhesive that is safe for your skin. Take time to research adhesive products that are of high quality and safe to use. Reading product reviews is a good way to gauge a product's effectiveness. You can also wear glueless wigs if your skin is sensitive to glue.
Take off your wig after 6 weeks
Six weeks is the standard time limit, but it can be shorter than that. The maximum period depends on the type of glue, as some glues are meant for short-term use only.
When you remove your wig, remember to give your natural hair the care and attention it requires. This includes washing, deep conditioning, and moisturizing.
Apply gentle removal techniques
Never remove your lace front in a hurry. Make use of a designated adhesive remover. Apply extra remover if necessary, then wait a few minutes before trying again.
After washing your wig, allow it to air dry entirely and place it on a wig head or in a silk bag. When not in use, store the wig in a cool, dry place.
Frequently Asked Questions
How durable are lace front wigs?
Depending on the quality and type of wig, lace front wigs can last anywhere from three months to three years.
Synthetic lace front wigs can be used for up to a year with proper care and maintenance. Meanwhile, lace wigs made out of human hair can actually last up to three years, provided you maintain them regularly. Make sure to keep them tangle-free, and apply them correctly.
Who can wear a lace front wig?
Anyone can wear a lace front wig. They are available in several designs that are appropriate for men and women, young and elderly. If you don't want to risk chopping off your natural hair, lace front wigs are a great option to experiment with new looks. Those who have hair loss can also use them to boost their confidence.
What are the benefits of wearing a lace front wig?
Lace front wigs give a more realistic look because they give off the appearance of a natural hairline. They provide more styling possibilities, are more lightweight and comfortable than regular wigs, and their base color can match your skin tone to blend in better.
Additionally, people who suffer from medical conditions like alopecia may benefit from wearing lace front wigs to improve their self-esteem.
We've pretty much tackled all you need to know about how long you can wear a lace front wig. With all the different factors that can affect your lace front wigs, they can be worn for a maximum of six weeks at a time.
Hopefully, you picked up a few tips on how to maintain and keep your lace front wig on your head for longer. If you like this article, don't forget to leave a comment below.