Wigs - Tips and Guides
How to Install a Lace Front Wig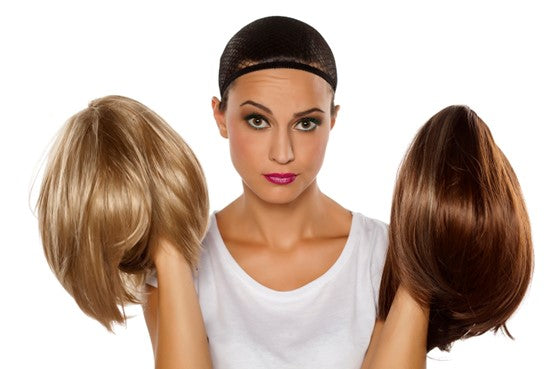 Lace front wigs are a popular option for those who want to switch up their hairstyle or want a look with more volume and length. Installing them for the first time can be a little intimidating, but anyone can learn how to do it with a little perseverance and practice.
This article will guide you through installing a lace front wig correctly, showing you how to prep your hair, apply the wig and style it for a natural-looking result.
By following these steps, you can install a lace front wig at home seamlessly and professionally. Continue reading to learn more.
Preparation - Tools Needed
It's essential to properly prepare your natural hair and gather all the required tools before installing your lace front wig. These are the items you will need:
A wig cap keeps your natural hair flat and smooth underneath the wig, resulting in a more natural and seamless appearance. Wig caps are available in various styles, including dome caps and stocking caps.
The lace front wig is fastened to your hairline using wig adhesive, either wig glue or wig tape. You can select the adhesive that works best for you from various types, including liquid, spray, and roll-on.
While some people prefer roll-on adhesives because they are less messy and easier to control, others prefer liquid or spray adhesives because they are quick to apply and offer a strong hold.
Using a wig brush or comb, you can style and tame any stray hairs on the wig. Use a wide-toothed comb or brush made specifically for wigs to protect the hair.
You will need scissors to cut off extra hair or trim the wig's lace. To ensure a clean, accurate cut, pick a pair of scissors with a thin, sharp blade.
It's useful to have some mirrors on hand so you can check the position of the wig and see the back of your head.
Detailed Steps to Install Lace Front Wigs
Installing a lace front wig can be tricky at first, but with a little practice, you'll eventually get used to it. The steps for correctly installing a lace front wig are as follows:
Step 1: Prepare Your Natural Hair First
Apply a moisturizing product after washing and drying your hair to help safeguard your hair and scalp. To keep your long hair out of the way, you can braid it or put it in a bun. Remove any excess oil or product from your hairline to ensure that the wig adhesive will adhere properly to your skin.
Step 2: Cover Your Entire Head with a Wig Cap
Put on your wig cap and ensure it is secure and completely encloses your hair.
Step 3: Apply the Adhesive
For this step, you can either apply glue or tape.
If you're using wig glue, apply an even, thin layer around your forehead, just below your hairline. Wait until it is translucent. Some people prefer roll-on adhesives over liquid or spray adhesives. Try out various types to determine which one suits you the best.
Cut out strips of wig tape and strategically place them just below your hairline. Remove the outer layer of the double-sided tape before applying the lace front.
Step 4: Align Your Hairline with the Lace Front
With the lace aligned with your natural hairline, place the lace front wig on your head. Make necessary adjustments to the wig to ensure it fits securely and comfortably. Use wig clips or bobby pins to keep the wig in place while you work.
Step 5: Trim the Extra Lace and Style the Wig
Once the wig is securely in place, trim the lace with scissors. Then, gently style it with the wig brush or comb to blend in with your hair. You can use makeup to blend in your hairline with your skin. You can also use a razor to mimic baby hairs around the hairline, but avoid making drastic cuts because it can be challenging to correct errors.
Step 6: Secure Wig Further if Needed
Apply additional wig adhesive as necessary to the hairline to finish fixing the wig in position. To help keep the wig in place, you can also use bobby pins or wig clips.
You will master the art of installing lace front wigs with a little practice. To achieve a seamless, natural-looking result, just be patient and take your time to hone the skill.
Here are some commonly asked questions and their quick answers when it comes to installing a lace front wig.
Do lace front wigs have to be glued?
No, not all lace front wigs have to be glued. There are glueless lace front wigs with accessories like combs and straps to secure them on your head. You can also use hair gel instead of glue if you wear it for a shorter time.
Why does my lace wig keep sliding back?
There are three main reasons why your wig keeps sliding back:
1.The wig is too small for you.
2.The hair underneath your wig is too bulky. To solve this, go for a haircut!
3.Your wig is too oily, your wig will pick up dirt, sweat and oil and so will become slippery, so please wash it regularly!
Do you put makeup on before or after a lace front wig?
It depends on the type of lace front wig you are wearing.
It is best to put makeup on after a lace front wig with glue so that you can conceal the hairline better with your foundation. For glueless lace front wig, you can put on your makeup first to avoid getting makeup on the wigs.
A fun and rewarding way to switch up your hairstyle or give you more volume and length are by installing a lace front wig. While it might initially seem difficult, anyone can learn how to do it with perseverance and practice. You can install a lace front wig at home seamlessly and naturally by following the instructions in this article.
To ensure a professional-looking outcome, always prepare your natural hair, gather all required tools in advance, and take your time.