Making customers top priority through a foundation of transparency and sincerity
Authenticity is of the utmost importance- we use only 100% real human hair of the highest quality KESWIGS was founded on the belief that it is our ethical responsibility to ensure that every single strand of the hair we provide meets only the most stringent inspections and is completely traceable.
Brazilian hair is the highest quality human hair available. This perfection is demonstrated by the consistently uniform cuticles, and in the radiant smoothness of the hair, which prevents knots and frizz, thereby maximizing its lifespan. Meticulous care is shown in the crafting of the wigs, which are designed to be worn comfortably and securely with a single-hook system. Created through this painstaking process, the hair remains incredibly soft and lustrous, while maintaining a remarkably comfortable fit.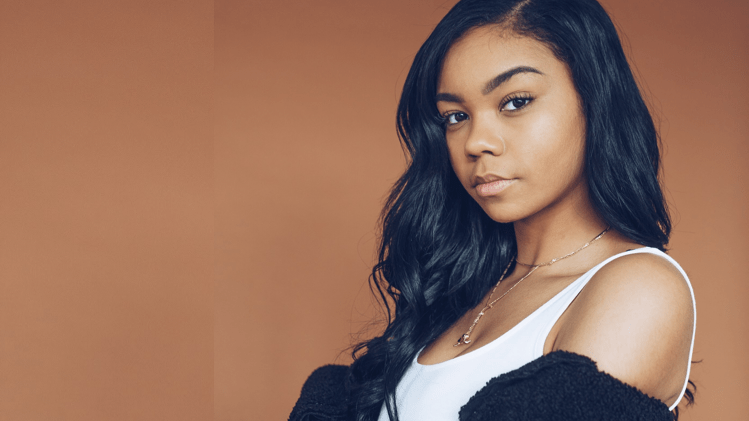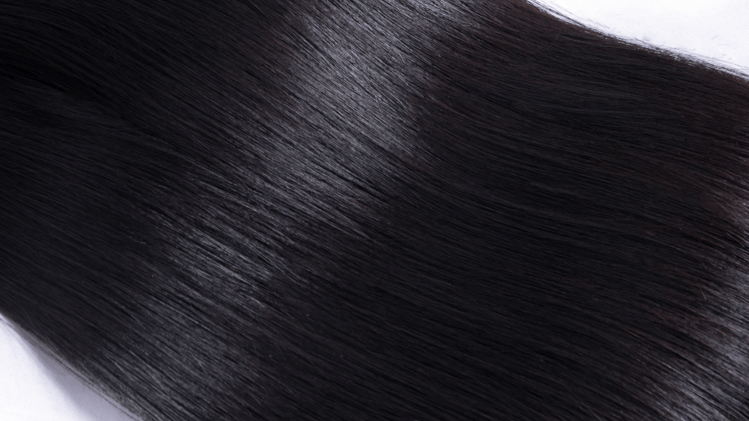 1. Natural —- Brazilians boast the richest, strongest hair in the world, thanks to their tropical monsoon climate and rich diets. We ensure only the highest quality hair is collected, and are responsible for handling the hair from donation at the source to customers in their homes.
2. #613 —- BHair is washed with an oxidant solution to remove melanin and treated with a gentle solvent to nourish the hair and ensure the outstanding quality of the end product.
3. 50 inches long —- In order to produce each 50-inch bundle of hair, more than 10 years of growth, maintenance, and care are required. The love and nurture over the life of the hair is what lends each donation a unique and inimitable quality.
FACTORY
Environmental protection and sustainability inspire our production Located in Guangzhou, Guangdong, China, we are committed to providing our employees with a healthy, safe, and inviting place to work. By employing local workers and ensuring that the working conditions they find are modern, clean, and sustainable, we promote a sense of community and family. Our workforce is 90% female and the average age of our employees is 45 years old- demographics that depend on our factory to make a living wage. As a company, we believe that the best workers are people who are happy with their jobs, and we provide 3 meals per day, 7-hour working days with breaks, and weekend holidays as well as health insurance to all of our employees.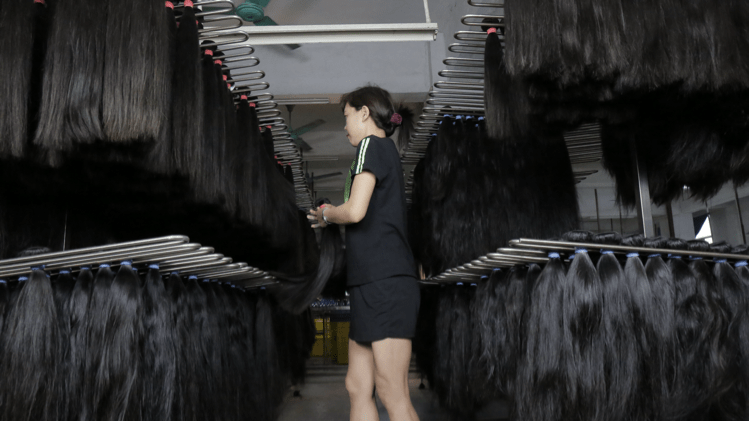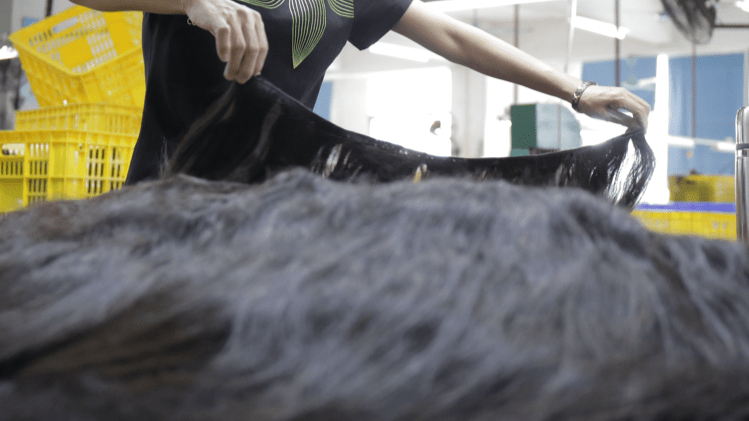 From procurement to production
We strive for excellence in every facet of our business- from the source of donation, to the assessment and verification process in selection of the hair, to the hand-woven product created by professional artisans- we maintain strict standards of quality throughout.
Excellence and Experience
Our team of experts, each of whom possesses nearly 30 years of professional experience in the hair industry, first established the Guangzhou factory in 2008 with a small workshop and only 10 employees. Today, thanks to the dedication and success of our team, as well as the community which we are fortunate to be a part of, we have grown to employ more than 200 workers.